Essential Winter Crochet Patterns: 15+Crochet Sweater Patterns (FREE!)
Today I'm excited to share with you an awesome crochet sweater pattern roundup! It includes 15+essential winter crochet patterns that are all warm and cozy sweaters you'll love!
When I think of winter, one of my favorite things to do is to have something super cozy to huddle up in. This roundup was designed with that in mind! All these sweaters and cardigans are the perfect cozy winter crochet patterns.
And plus, there is something SO satisfying about crocheting your very own sweater. If you haven't made a sweater yet, I promise it is so rewarding.
Whether you're an expert at crocheting sweaters or you're just starting, don't worry! These patterns satisfy a large range of interests. There's something here for everyone!
Are you ready to see the 15+crochet sweater patterns?! Let's dive right in!
All the Free Crochet Sweater Patterns
Here we go! Scroll down the list of free crochet sweater patterns to get the inspiration flowing. Hopefully you will find one that is perfect for your hooks this winter!
Share This Post By Pinning it to Your Pinterest Boards Here!
1: Cross my Heart Sweater
This pattern is designed by Meg Made With Love, and it's just so cute! Click the button below the photo to go straight to the free pattern.
2: Seafarer's Sweater
Secondly, we have this cute tapestry crochet sweater! The pattern is written by Zoë Curtis Crochet, and she made it as a guest post for Make and Do Crew blog!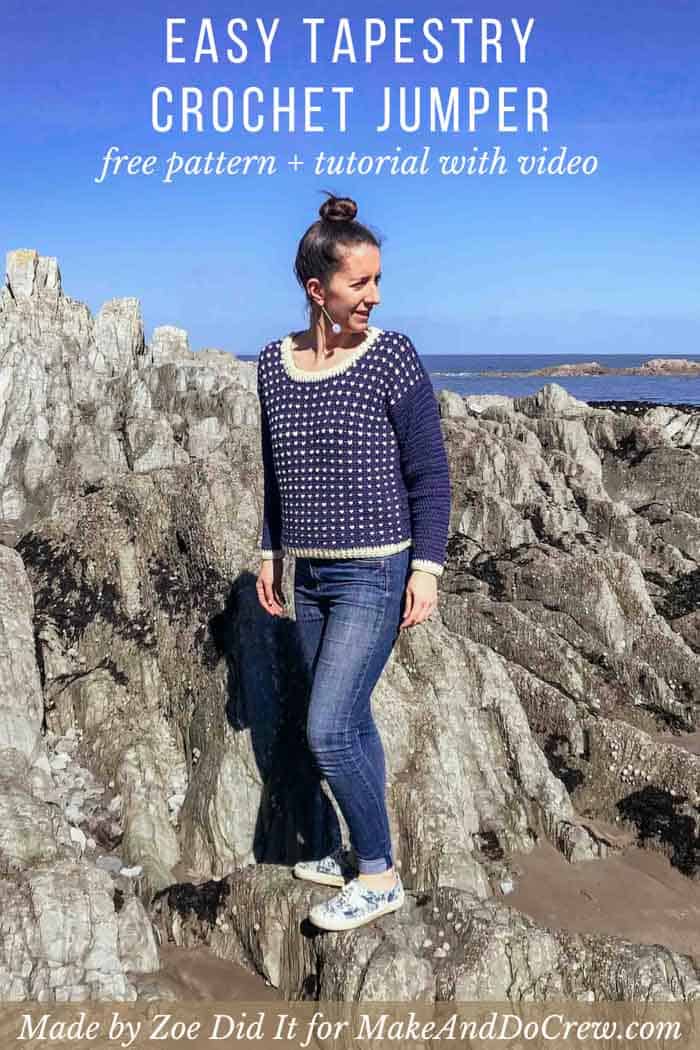 3: Staycation Cardigan
This pattern was designed by Jessica from Make and Do Crew herself! This cardi just looks like the epitome of comfortable. 🙂
4: Monochrome Sweater
This cute cropped sweater pattern is by Sewrella! I love the stripes, and there are so many other color options you could choose!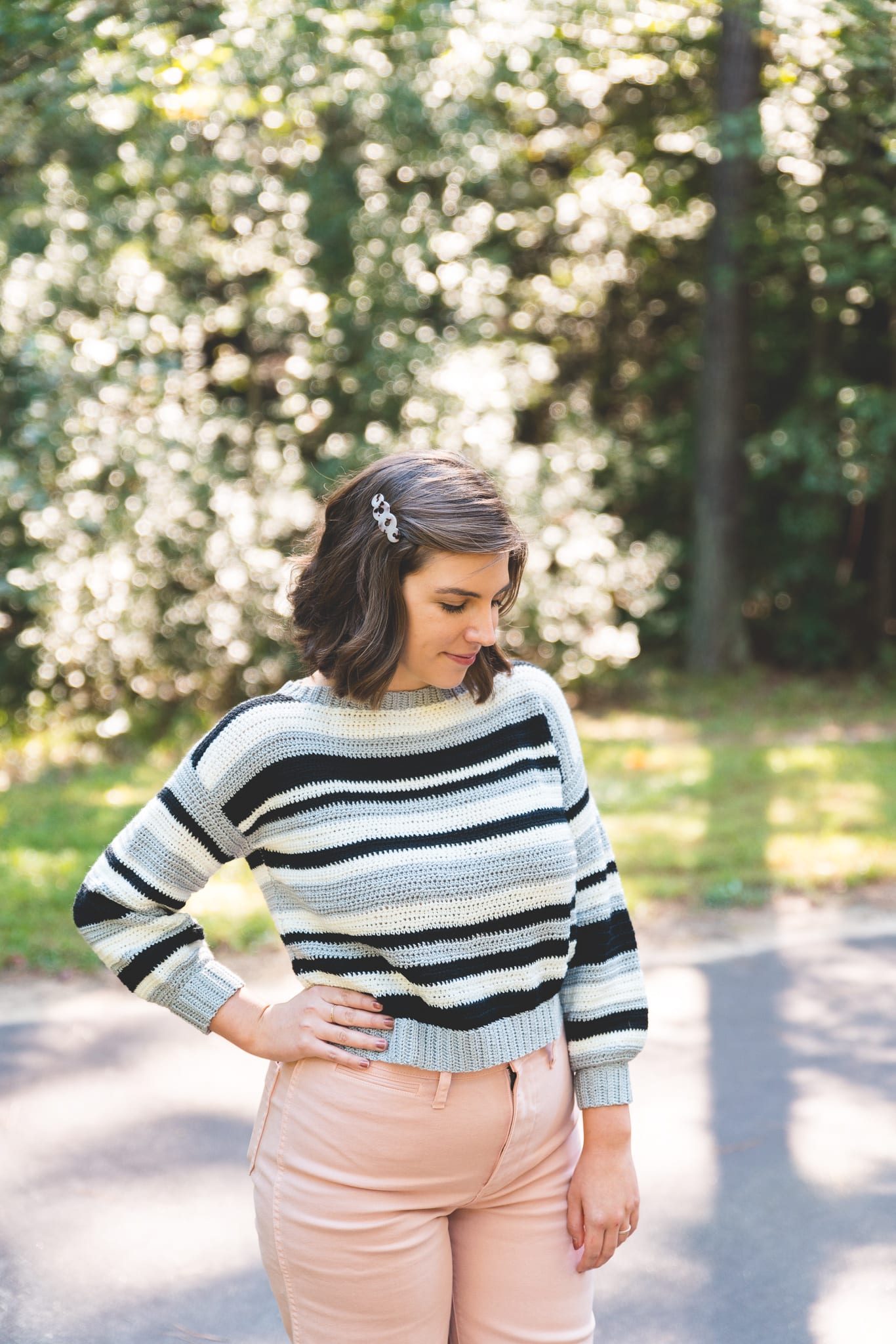 5: Rainier Sweater
Another pattern by Sewrella…doesn't this one look so warm?!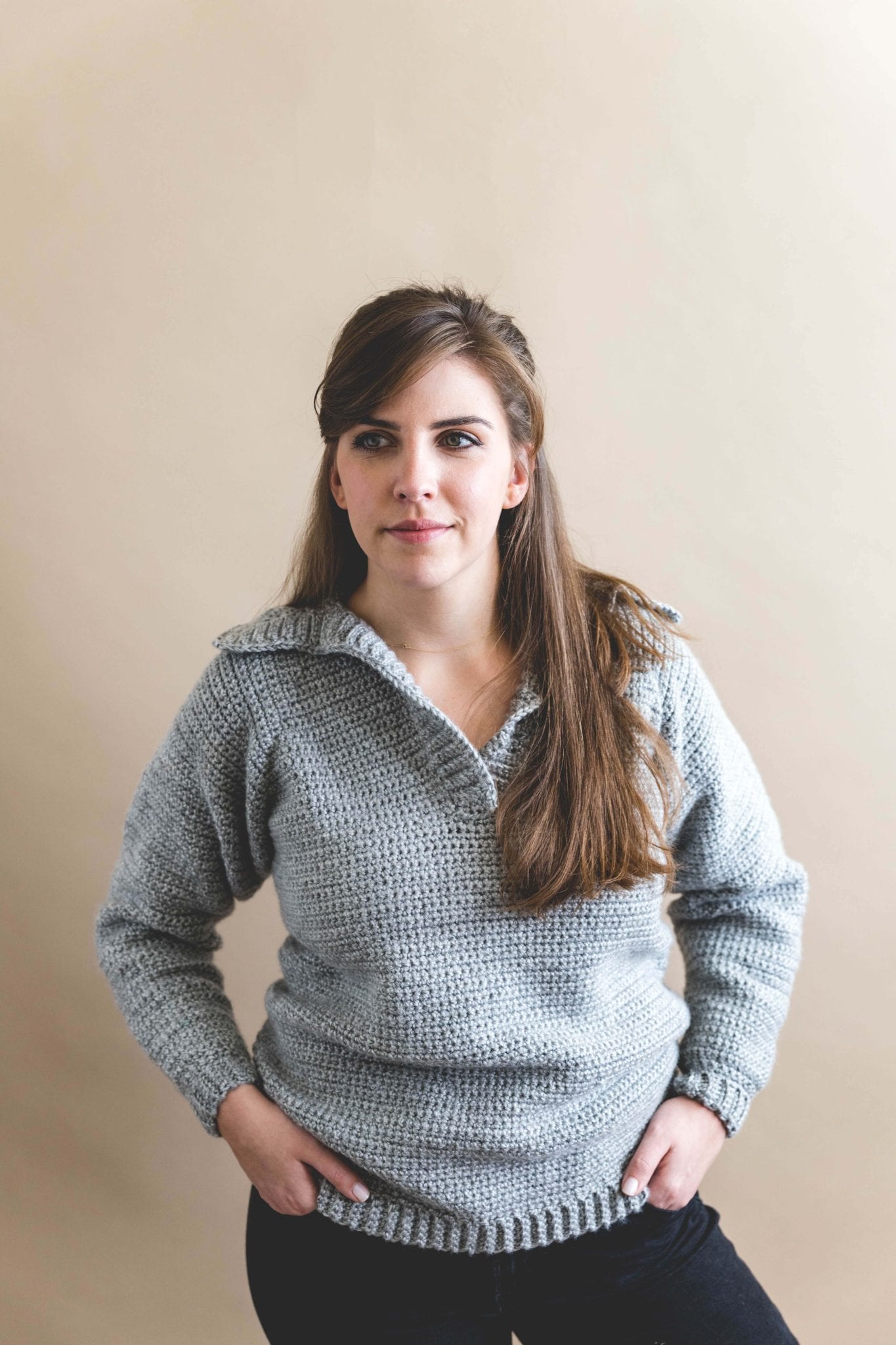 6: Angelica Cardigan
This cardigan pattern was designed by me, Desert Blossom Crafts, and it is actually one of the most popular patterns on my blog!
7: Slice of Nice Sweater
This super cool sweater was designed Colourful Crochet as a guest post on the Make and Do Crew blog. It's made from the top-down, which means it is seamless!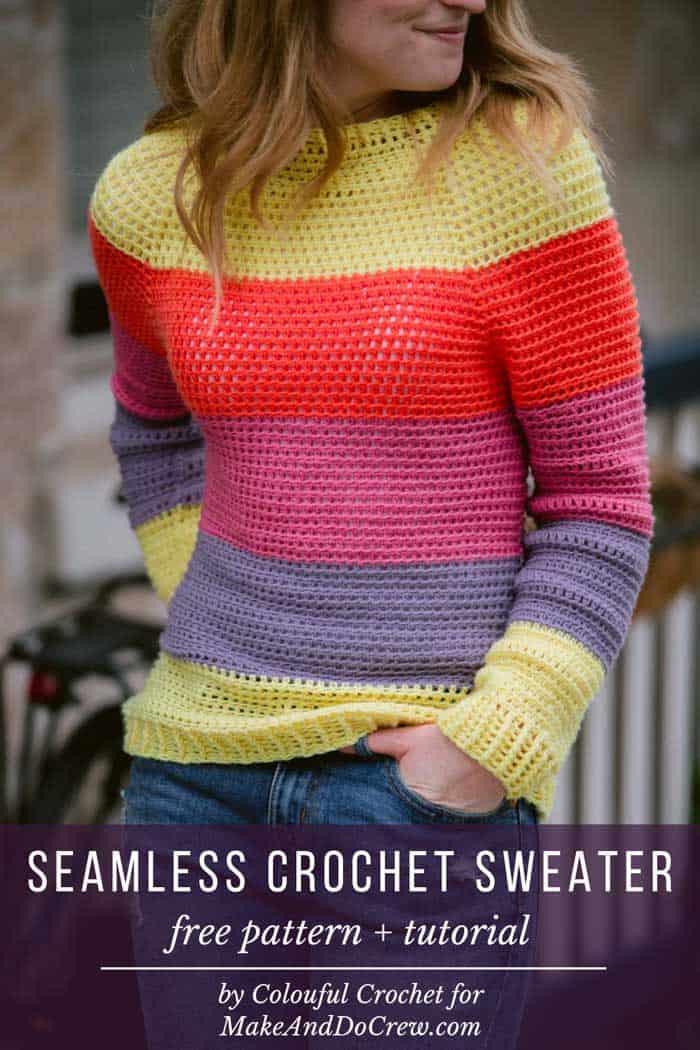 8: Sherbet Sweater
This colorful sweater was designed by Amber from Divine Debris! It's a beginner-friendly pattern you'll want to check out.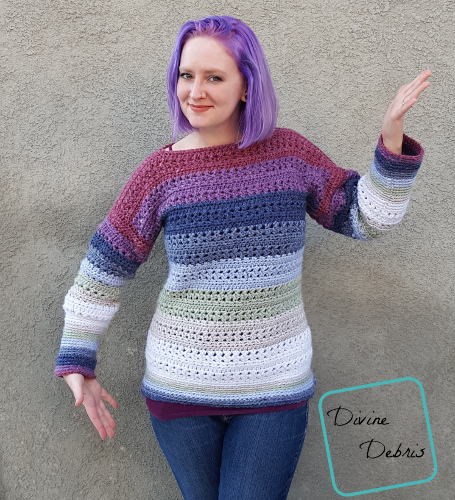 9: Nebbia Sweater
This cozy sweater pattern was written by Crystal by CristaCo Design!
10: Entwined Chic Cable Sweater
This beautiful Cable crochet pattern is on the Yarnspirations website! Personally, I love cables, so I might just have to make this at some point…
11: Rosewood Cardigan
This cardigan looks deliciously soft, don't you think? Plus, the blush color is so pretty! Stephanie from All About Ami did a great job.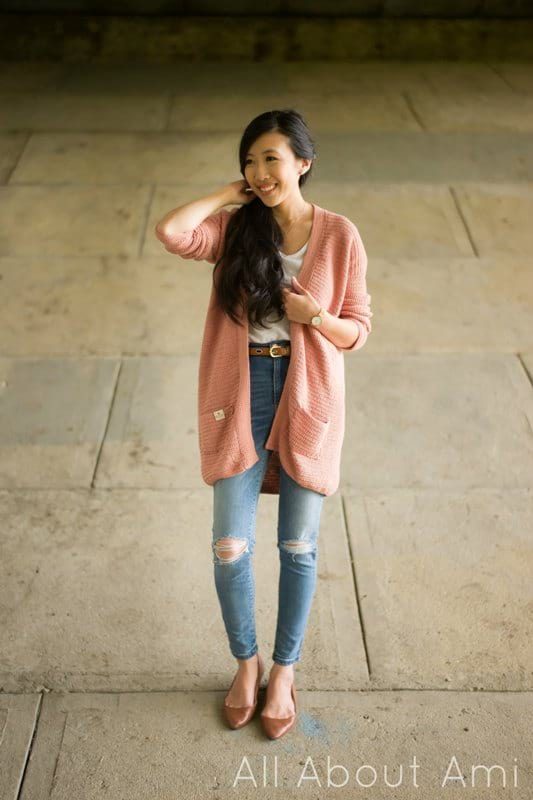 12: Velvety Pullover
Ok, now this is a sweater that just couldn't be left out. How could you not want to make this velvety soft sweater? I think Jessica from Mama in a Stitch designed the ultimate cozy winter crochet pattern.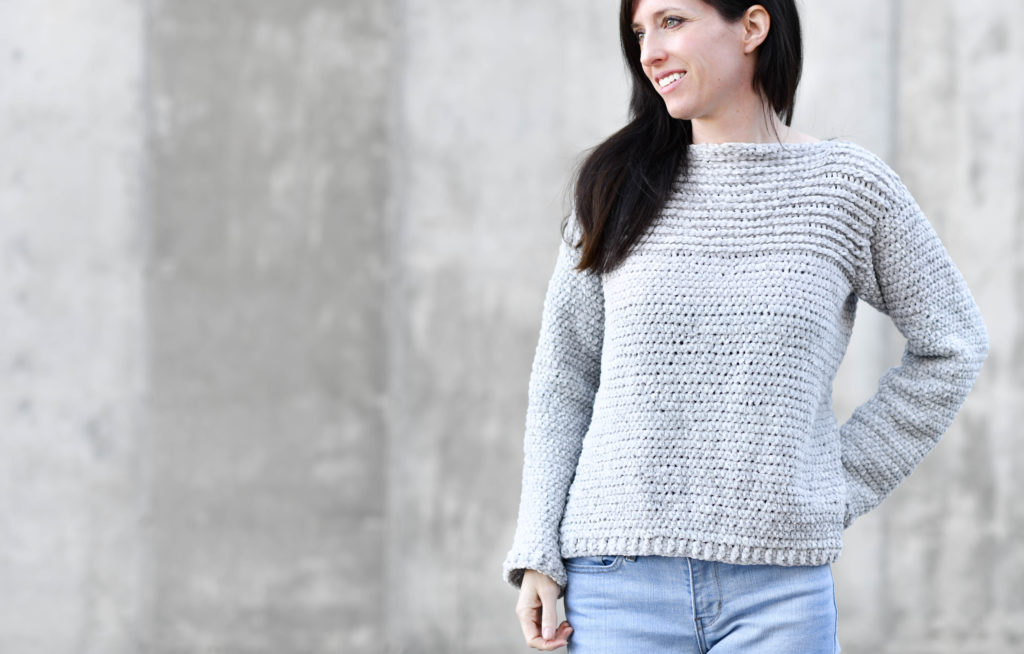 13: Fallow Fawn Roll Neck Sweater
Olivia from Hopeful Honey really knocked this one out of the park! This sweater looks so cozy, since it's like a sweater and a cowl all in one!
14: Beginner Crochet Sweater
If you're new to making garments, this sweater by Sweet Everly B would be perfect!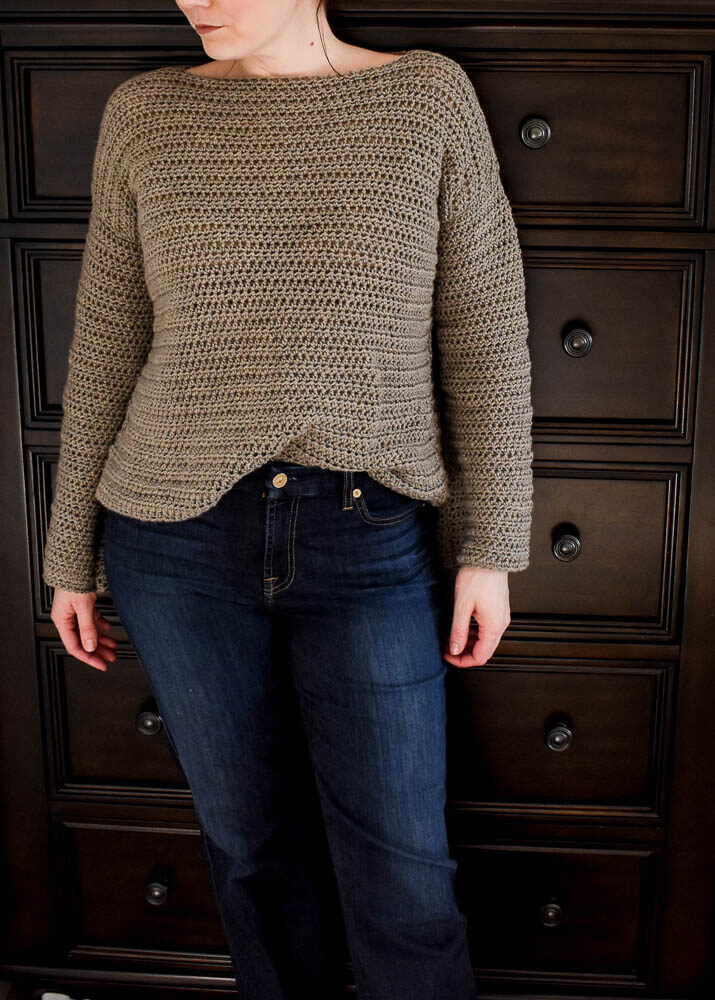 15: Cable Cardigan
This cardigan by Maria's Blue Crayon has an awesome feature: a cable going around the whole rim! I absolutely love it!
16: Hudson Cardigan
If you're looking for some awesome texture, this cardigan by Hooked on Tilly certainly has it!
17: Pulled Taffy Pullover
This sweater by Breann from Hooked on Homemade Happiness is so cute! I love how the stripes are done.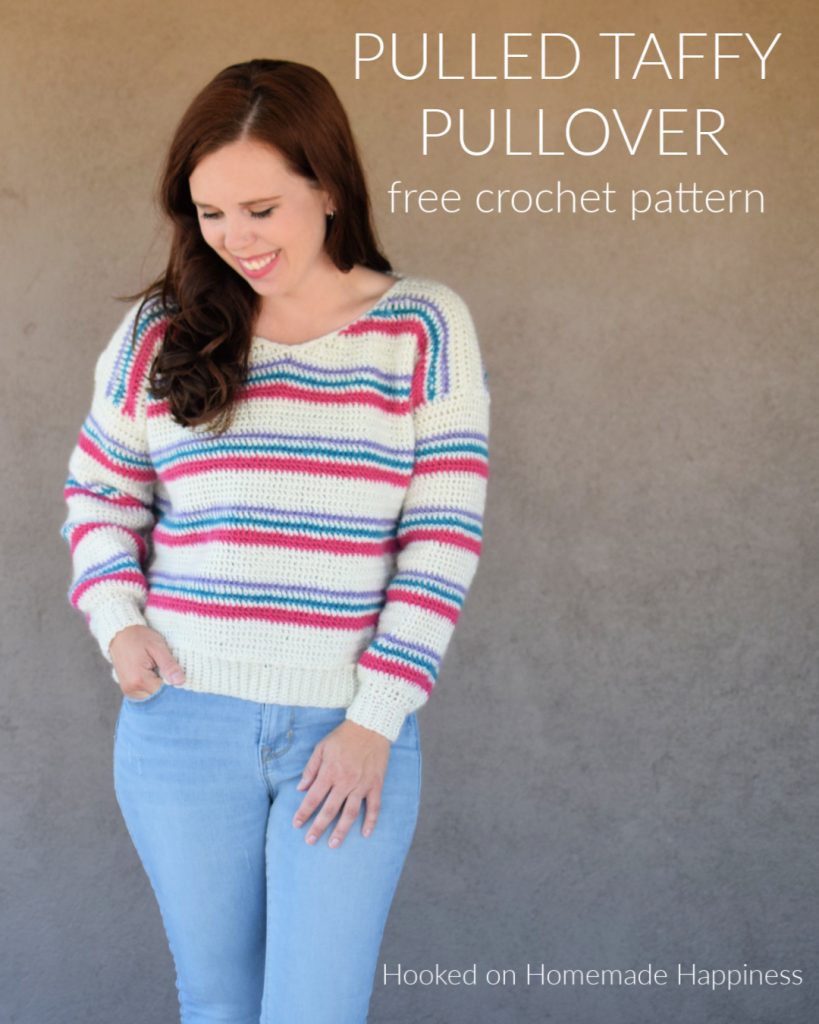 18: Striped Raglan Sweater
I love raglan sweaters! In my mind, the less sewing I have to do, the better. That's just one of the awesome features of this beautiful sweater by Maria's Blue Crayon!
Which Sweater Pattern is Your Favorite?
I'd love to hear if you found your next project from this list of free crochet sweater patterns!
If you have a favorite, comment below so I can see!
More Crochet Pattern Roundups
To view all my free crochet patterns, click here.
Happy Crocheting!