Royal Yarn Winders – 2022 Alternatives You Need to See
Royal Yarn Winders seem to have been a very popular product in the past, used and loved by many knitters and crocheters. Their discontinuation has left many people searching for an item that doesn't exist.
If you're searching for your own royal ball winder and have wound up frustrated, don't worry. There are many amazing alternatives to the classic Royal winder, which I can't wait to show you in this post!
Disclosure. This post contains affiliate links. As an Amazon affiliate, I earn from qualifying purchases.
Which is the best Yarn Winder?
For those who used and loved royal yarn winders, their unavailability may seem to leave a hole in the knit/crochet community. However, I beg to differ. There are many different ball winders made by trustworthy companies.
In my opinion, the Knit Picks Ball Winder has to be one of the best winders out there. I have ordered so much yarn, and many tools from Knit Picks and their high quality products never disappoint.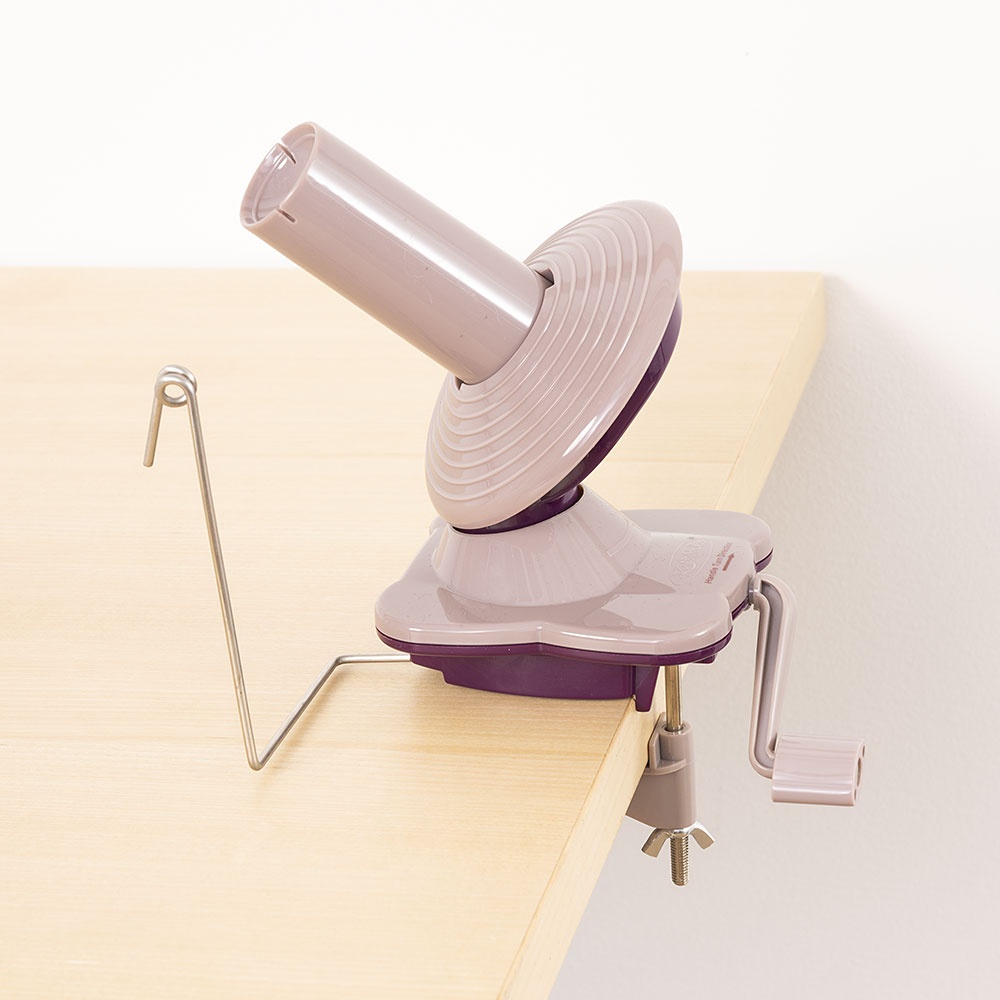 The Knit Picks ball winder features:
Full winder with table clamp
Metal yarn guide arm
Can wind yarn up to 100 grams/3.5oz
Can wind hanks or skeins
Is a yarn winder worth it anyway?
Before we get into a list of more ball winders, let's talk about something else…
Are yarn winders a worthwhile purchase?
I would say, it depends. Here are some things you should consider BEFORE you buy a yarn winder for yourself.
A yarn winder is worth it if…
You buy a lot of hand dyed yarn in hanks
You prefer working with cakes of yarn
You are tired of skeins getting tangled from the center pull (cakes can be way easier to work with!)
A yarn winder may not be for you if…
You never buy hand dyed yarn
You don't have any problem working with skeins and don't want to try cakes
You're too impatient to ever cake your yarn
More Crochet Reviews
Stanwood Yarn Winders
One of the best alternatives to Royal Yarn Winders is yarn winders made by the Stanwood brand. They have two different types of winders I just have to feature here today, because they are great quality.
Stanwood Needlecraft YBW-A Hand-Operated Yarn Ball Winder
First up, Stanwood has a 4oz ball winder that looks like great value for the price. This winder is marketed as "Smoother, Quieter and Sturdier Than the Discontinued Royal Ball Winder" which is impressive! It looks like they really believe in their products too, because they offer a free, 1-year unconditional warranty.
PROS:
Ideal for 100gram/4oz balls of yarn
Sturdy, quiet, and high quality material
Secures tightly onto surfaces
Has 1-year warranty
CONS:
Stanwood Needlecraft Large Metal
If you're looking for a professional metal yarn ball winder, you just have to check out this more expensive but great quality Stanwood winder. Out of over 1,000 reviews on Amazon, 97% are 4-5 stars. Made to be ultra heavy duty, this is a jumbo winder that can wind balls up to 10oz in weight!
PROS:
Sturdy, metal material with 3-millimeter-thick steel
Rust resistant
Reinforced Gears made from nylon to be – durable but also flexible
Can wind huge balls up to 10oz
Easy to set up – does not require tools like a wrench
Has noise reduction ring
Edges are smooth to avoid leaving marks on your table or other surface
CONS:
More expensive than a typical ball winder
May be difficult for a complete beginner to use
More Alternatives to the Royal Ball Winder
If you're not into the Stanwood brand, there are other alternatives to the royal yarn winders that work great!
For example, this large ball winder can wind up to 10oz of yarn as well, and features sturdy metal.
You can also find amazing yarn winders that are HANDMADE on Etsy! This heavy duty one from Beesybee is made locally in California from laminated Birch wood.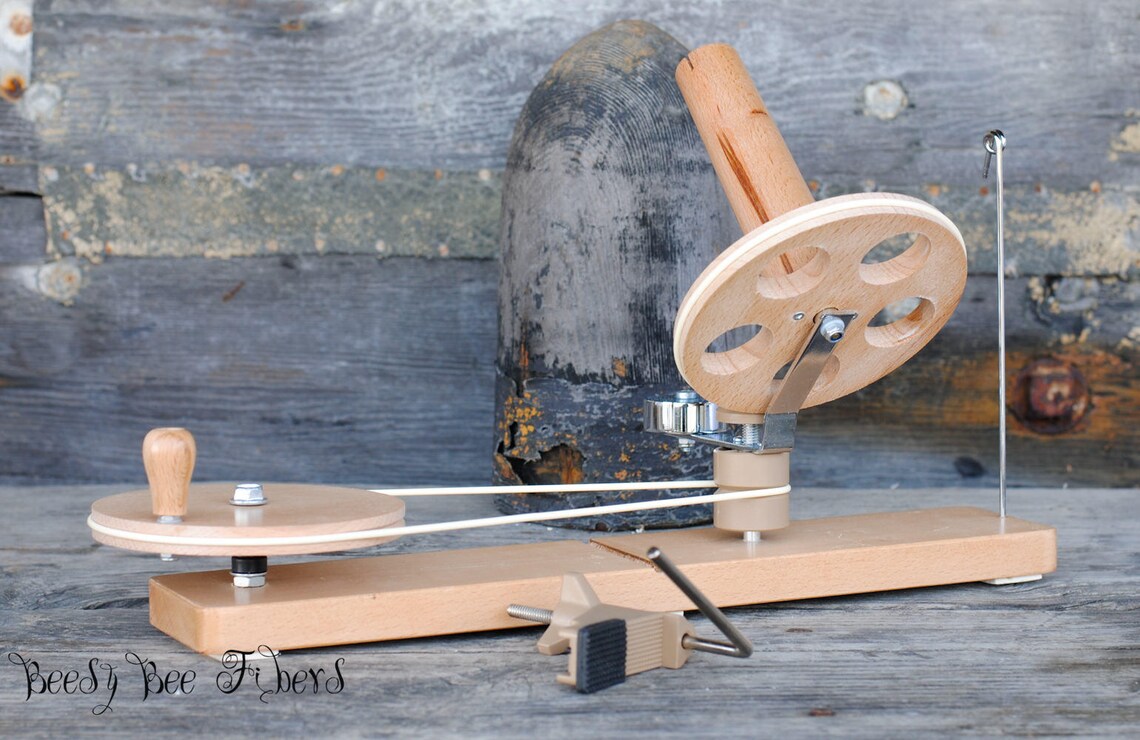 Best Yarn Winders for Beginners
I wanted to also include another section in this post about yarn winders for beginners…
Because to be honest, if you're just getting started with winding your own yarn, you don't need to spend a ton of money! Some of the options above are expensive, but there are plenty of cheap ball winders out there that get the job done. In fact, I have used one like this for many years and been happy with it.
Here are some of the best inexpensive winders that will work great if you're a beginner:
LAMXD Needlecraft Yarn Ball Winder
In the $20 range, this LAMXD yarn ball winder is a great option if you're looking for low cost winders and prime shipping. I think my favorite part about this winder is that it even give you a set of steel crochet hooks with it!
PROS:
Allows you to make 100gram/4oz cakes
Metal crank that is lightweight but still high quality
Designed to be low-noise
Take it with you on the go with the included portable packaging
Includes a set of 8 crochet hooks 0.6mm to 1.75mm
CONS:
Can't wind larger balls of yarn
Hooks are not a particular brand
Some reviewers had trouble with the yarn tangling
BUTUZE Yarn Ball Winder with 25 Pieces
Another great option for beginners is the Butuze yarn ball winder found on amazon! This winder is a good "starter" option. You may want to upgrade in the future, but it is a great intro to the world of winding yarn. It features easy setup and use, plus fun extra accessories!
PROS
Perfect starting winder – super easy to set up and use
Great value for a low cost – comes with extra accessories like stitch markers and needles
Winds balls quickly and efficiently
CONS
Has a small clamp (must clamp onto 1/4″ – 1/2″ thick surface)
Small base, so better for smaller balls of yarn
Sometimes the gears get tangled
Learning to Use your new ball winder
Once you choose a ball winder and purchase, it is not hard to start using it right away! Here are the steps you can take each time you're ready to use your new winder:
Attach your winder to the surface of your choice. Make sure it is secured firmly.
Slip the end of your yarn through the metal yarn guide, following the instructions that come with your winder (each will be a little different).
Place your unwound hank onto the back of a chair or a swift.
Start turning the handle to smoothly wind your yarn into a cake! Start off slowly, and increase speed once you feel confident in the process.
Once you've wound the whole cake, gently lift your new ball off the winder.
Do you need a swift to go with your new winder?
Swifts are a tool that CAN be used with a ball winder, but do not HAVE to be used with a ball winder. Basically, they are an optional extra tool that can make your life easier. If you choose to go without a swift, you will simply place your hank on the back of a chair or have someone hold it while you use the winder.
If you wind a LOT of yarn a swift will definitely make your life easier. But it's all up to your preference.
Conclusion
So there you have it, a bunch of Royal Yarn Winder alternatives…with a few inexpensive options for beginners thrown in the mix! I hope you've found a new yarn winder that fits your specific needs. If you have any questions, feel free to leave a comment below!
SHARING IS CARING!
If you did enjoy this post, I would love if you shared it in the following places so many MORE people can see it!
Pin to Pinterest – just hover over any of the photos in this post and click "save"
Happy Crocheting!