Looking for some Christmas tree crochet patterns? I'm excited to share 15+ crochet patterns that incorporate the iconic Christmas tree in some way. I'm talking ornaments, garlands, other decor, gifts, and more!
Make Christmas Tree-inspired decorations this year!
Just about everyone loves a good Christmas tree-themed decoration. If you're reading this post, you're probably looking for the perfect Christmas tree crochet pattern.
Personally, I can't get enough of Christmas either! My family gets a fresh Christmas tree every year, and I just love the smell of woody pine.
Of course, you won't get that smell when you crochet a Christmas tree 😜 But that's okay! These Christmas tree crochet patterns will keep your entire house looking festive!
How do you crochet a Christmas Tree?
If you've never crocheted a Christmas tree before, it might seem a bit intimidating. They just tend to look complex, you know?
If that's you, don't worry. These Christmas tree patterns include full written instructions, and many contain photo or video tutorials as well.
The truth is, there are many different ways of crocheting Christmas trees – some methods are harder and some are easier. The patterns we're about to look at use methods like:
flat crochet trees made from simple single crochet
cone-shaped trees made from simple single crochet
cone-shaped trees made from bobbles
tapestry crochet Christmas trees
And a WHOLE lot more! These are just a few of the ways these Christmas trees are constructed. They are all very unique and different from each other. Hopefully you will find the perfect pattern to fit your skill level 😃
Organizing the List of Crochet Christmas Trees
We are about to jump into the list of 15+ tree crochet patterns! But first, let me tell you how everything is going to be organized.
I've split up the different tree patterns into sections based on the TYPE of pattern it is. For example, we will start with ornaments, then move onto garlands, and so forth. If you would like to jump into one of these sections, use the clickable table of contents below!
Table of Contents
Christmas Tree Ornaments
Let's start with some of my favorite Crochet Christmas tree ornaments! Each of one these are unique in their own special way – but the one thing they have in common is that they are a tree meant to be hung on a tree! 🤣
Bobble Christmas Tree Ornament
To start off, meet the Bobble Christmas Tree Ornament. Isn't it so beautiful? I just love the tiny colorful ornaments! Get the free pattern here!
Crochet Heart Christmas Tree Ornament
Next up is this adorable heart-shaped Christmas tree ornament. Aren't the hearts so cute? You can even make this ornament in lots of different colors and with all kinds of embellishments! Get the free pattern here.
Puff Stitch Flat Tree Ornament
This is my own interpretation of a Christmas tree ornament…what do you think? In this design, puff stitches are offset from each other to form a unique, branch-like effect. You'll just need a little worsted weight yarn to complete one of these trees! Get the free pattern right here.
Frosted Christmas Tree Ornament
Another one of my favorites is this gorgeous frosted Christmas tree ornament. It almost looks like it came straight out of the snow! Get the free pattern here.
Crochet Christmas Tree Garlands
For category #2, let's look at some of my favorite crochet Christmas tree garlands! All of these would make your house look extra festive, spreading the love of Christmas trees everywhere.
Rustic Christmas Tree Garland
First up for the garlands is a beautiful one from Hooked on Patterns. I love the traditional, rustic feel of this one! It uses a special split half-double-crochet stitch to get that pretty knit-look effect. But if that sounds hard, don't worry, because there are lots of photos included! Get the free pattern here.
More Christmas Crochet:
Christmas Tree and Snowflake Garland
Next up, check out this stunning Christmas tree and snowflake garland! This garland is so cute with the icy color scheme – and the snowflakes add the perfect touch! Of course, you can use any color yarn and customize it to your liking. Get the free pattern here.
Tassel Christmas Tree Garland
Here is yet another one of my favorites. This design actually reminds me of candy corn! This pattern is so fun, and you can use one, or several colors in each Christmas tree to make a fun, festive garland! Use as a tassel on a gift, or string together like the other garlands. Get the free pattern here.
Crochet Cone Christmas Trees
Another one of my favorite Christmas tree-themed crochet projects are Christmas tree cones. There are so many to choose from, but here are some of my personal favorites!
Crochet Fir Tree
To start off, here is this cute crochet fir tree pattern! I love the simplicity of this one – it just uses simple single crochet, no fancy stitches. These would make perfect Christmas decorations or gifts! Get the free pattern here.
More Christmas Patterns
Christmas Tree Bobble Sweater
Next is this gorgeous Christmas Tree Bobble Sweater pattern. My favorite part about this design is the unique and pretty stitching. This is not a boring tree at all! Instead, these trees make the perfect, elegant holiday home décor! (Oh, and wondering why it's called a "sweater"? It's because the crocheted part gets slipped over a foam cone!) Get the free pattern here.
Winter Wonderland Tree
Another one you have to see is this beautiful Winter Wonderland Tree. I love the life-like texture of this one! Another fun thing about this pattern is that it can easily be made into an ornament, centerpiece, or just a festive decoration! So many different options😍 You can get the free pattern here.
Frosted Christmas Tree Cone
Last up in this category is the lovely frosted Christmas tree cone. I almost can't take the cuteness of this design. It is the perfect snow-covered Christmas tree, and made in such a unique way too. The best part about this pattern is that it's beginner friendly! Get the free pattern here.
Flat Crochet Christmas Trees
Now let's move on to some of my favorite flat Christmas tree designs! Now you might have noticed that some of the other patterns we've looked at (like in the garland section) were already flat trees. However, in this category we'll be looking at a few more flat patterns specifically designed as appliques. The truth is, you could mix it up and use the garland trees as appliques too! It's really all up to preference.
Textured Flat Christmas Tree
To start off, meet the Textured Flat Christmas Tree pattern! I think I straight up drooled when I saw the texture on this design. It almost looks like it's woven together, but in truth it just uses puff stitches/bean stitches! These trees would be perfect as embellishments on gift bags, ornaments, or even as a garland. Get the free pattern here.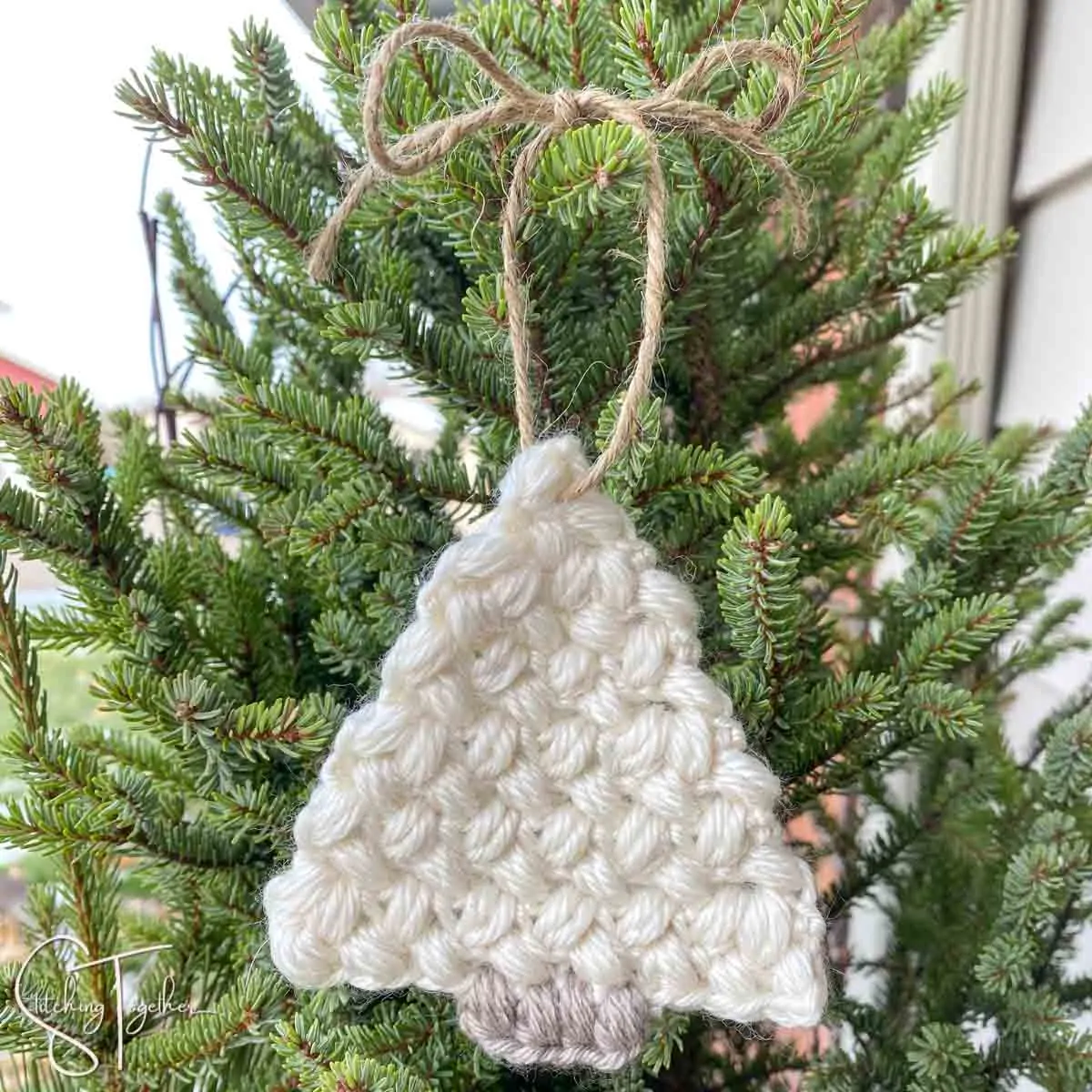 Classic Christmas Tree Applique
Next up is adorable classic-looking Christmas tree applique. This design so fun and customizable! These trees would make perfect ornaments, embellishments for sweaters, or even Christmas-themed coasters! Get the free pattern here.
Crochet Christmas Tree Applique
Lastly for this category is this fun crochet Christmas tree applique pattern. This design is so cute and reminds me of a sugar cookie! You can do so many things with this pattern and add all kinds of embellishments (like beads, pom-poms, felt cutouts, etc.) to make it your own! You can get the free pattern here.
Crochet Christmas Tree Inspired Gift Ideas
Have you been looking to make a fun, Christmas tree-inspired gifts? These patterns are so fun and versatile! While ANY of the patterns in this list could potentially be used for gifts, these 5 were the most suitable for gift giving in my opinion.
Christmas Tree Scene Wall Hanging
First up is a pattern designed by me! This Christmas wall hanging includes a tree, of course, along with cute little crocheted presents, all the background of sky and mountains. Get the free pattern here.
Small Foldable Christmas Tree Decoration
You also can't miss this awesome foldable Christmas tree decoration pattern. This design is so creative and makes putting decorations away a snap! These trees also make great gifts for your Christmas-loving friends! Get the free pattern here.
Christmas Tree of Hearts
Next is this lovely Christmas Tree of Hearts pattern. These hearts can be used to make a cool wall hanging, fun canvas art, or even as a game to see what designs you can make out of the hearts! You can get the free pattern here.
Christmas Tree Wall Hanging
Another one of my favorite Christmas tree inspired patterns is this gorgeous wall hanging. This pattern makes a great house decoration or gift idea! These trees can also be easily customized with different colors, beads, and yarns. You can find the free pattern here.
Tapestry Christmas Tree Potholder
Up next (and probably my favorite gift idea) is this intricate Christmas Tree Potholder made from tapestry crochet. I just love how detailed and beautiful this pattern is! These potholders make great coasters or festive gifts! You can find the free pattern here.
Holiday Tree Hot Pad
Last but definitely not least is this Holiday Christmas Tree Hot Pad pattern. These hot pads are perfect for holiday dinner decorations or gifts, and they can easily customized with all kinds of colors and textures of yarn! Get the free pattern here.
Conclusion
Whatever time of year you stumble upon this post, it is never too early to start preparing for the holiday season! You can use any of these Christmas Tree-Inspired Crochet Patterns to spruce up your décor and get ready for the most wonderful time of the year.
Did you have a favorite pattern from the list? Let me know in the comments below!
More Crochet Pattern Roundups
SHARING IS CARING!
If you did enjoy this post, I would love if you shared it in the following places so many MORE people can see it!
Pin to Pinterest – just hover over any of the photos in this post and click "save"
Happy Crocheting!