20+ Crochet Top Patterns You NEED This Summer!
Summer is one of my personal favorite seasons. I just love all the bright colors, fruity treats, and most of all, the summery crochet patterns! I have a whole host of crochet tops in my wardrobe, but I am always looking for more…which is why I'm excited to share a list of over 20 crochet top patterns with you today!
How do you crochet a simple top?
Before we get into all the patterns, let's talk about how crochet tops are made in the first place. There are lots of ways you can crochet a top, but here are the main constructions that designers use:
Two rectangles sewn together
Two rectangles with a v-neck in the front, sewn together
Top-down, circular yoke
Top-down, raglan yoke
In this post, I will be showing you tops that use all the different constructions mentioned above!
How to make your crochet tops cute
Eek, I love this question! There are endless ways to make sure your crochet tops turn out as CUTE as possible. Of course, the first thing you want to do is choose a pattern that YOU would define as "cute". But after that, there are still some other steps you can take:
First, make sure you choose your yarn carefully. If you're going to substitute, make sure that it is a GOOD substitution that is pretty similar to designer's recommendation.
Second, make sure you check gauge! There's nothing worse than ending up with a top that is too big or too small because you ignored gauge. A well fitting top makes for a cute top!
Lastly, this is really my own subjective opinion, but I also recommend not using yarns that are considered "value" yarns (like Red Heart Super Saver). I know this can be tempting if you're a beginner, but trust me – there are other worsted weight yarns out there that look MUCH better made into clothing. One of my favorites, for example, is Lion Brand Jeans (and yes, it is used in one of the patterns in the list!)
Is it easy to crochet a shirt?
YES! If you're doubting whether you are advanced enough to crochet a top/shirt, don't worry. Crocheting your own clothing is really so much easier than it looks.
If you're coming to this post and you've NEVER crocheted clothing before, I do recommend you read a few posts before starting. And, you can also download my FREE garment cheat sheets that will give you a bunch of tips too!
Frustrated By Crochet Garments? Maybe You're Afraid to even start...
Frustrated By Crochet Garments?
Download my FREE Garment Cheat Sheets that will teach you the 5 essential components you need to understand to make great-fitting sweaters!
Posts to read:
How long does it take to crochet a top?
Crochet tops might seem like more of a time-investment than other crochet projects. They're larger, and take more energy than quick, smaller projects.
However, don't let that turn you off! I actually think tops are a great crochet garment to start with because they are WAY shorter to make than a sweater with long sleeves, for example.
Of course, exact time-frames will depend on how fast you crochet. But overall, I would say that tops take a medium length of time to crochet. Not too long, not too short!
Amazing Crochet Top Patterns – THE LIST
As we get into the list of patterns, let me explain how this is going to work. Instead of just listing all the tops together like many people do, I've broken them up into 5 different categories of patterns. If you like one specific kind of top, just click the table of contents below to skip to those patterns!
Table of Contents
Crochet Top Patterns For Beginners
To start off, let me introduce you to a few of my favorite beginner summer top patterns! These are the tops that use the ultra simple construction of two rectangles (for the most part). I did throw in one raglan-style top too🤪But the main thing to keep in mind is that all of these tops use simple stitches. If you're just getting started with crochet garments, try one of these awesome patterns!
Dreamsicle Crochet Top
First up is this beautiful Dreamsicle Crochet Top pattern. This pattern is absolutely gorgeous, and it makes a great first-top crochet pattern for beginners because it is just made from 2 rectangles! You can find the free pattern here.
Midnight Top
Here's a Summer top that I designed! It is called the Midnight Top and it features Lion Brand Jeans Yarn. This top is so beautiful and can easily be dressed down with jeans or shorts for a more casual look, or dressed up with a skirt or cardigan for a more formal event. This is a crochet raglan top, but don't let that scare you. It just uses simple stitches! Get the free pattern right here.
Eyelet Lace Tee
Another great top pattern for beginners is this Eyelet Lace Tee designed by Hannah from Han Jan Crochet. This top is so elegant-looking, yet it's also super easy and quick to recreate! You can get the free pattern here.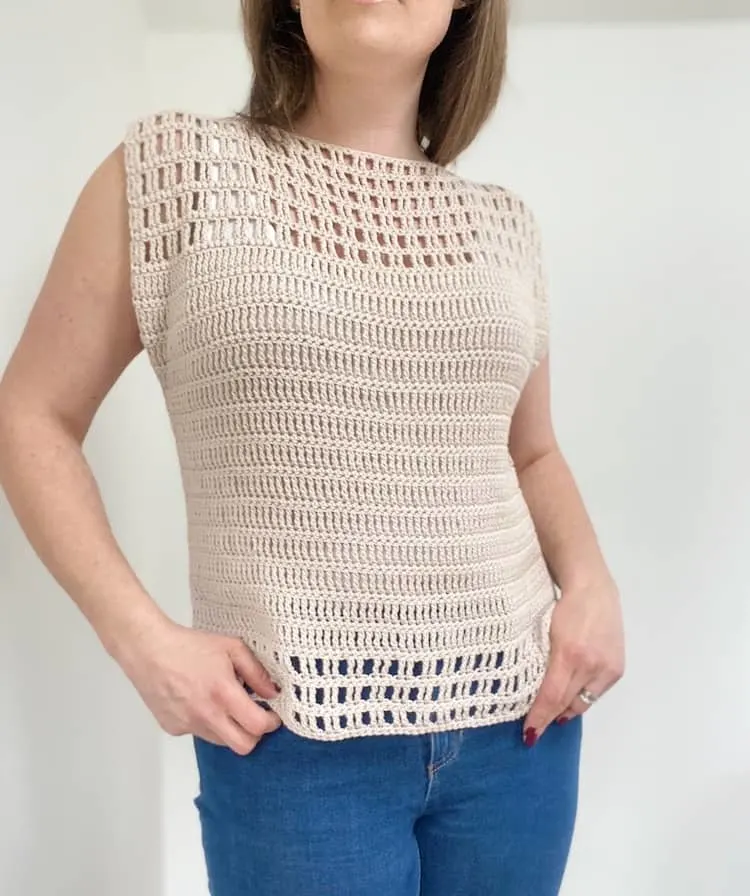 Aviva Summer Top
Last but not least, Ling from Hooked on Patterns has an amazing easy top pattern that is made from the moss stitch and a pretty mesh along the top! She has included sizes small all the way to 3XL, making it a great option if you're looking for size-inclusive top designs! Get the free pattern here.
Crochet Tank Tops
Next, let's get into my favorite crochet tank top patterns!
Tunisian Crochet Summer Top
This first pattern is this beautiful Tunisian Crochet Summer Top pattern. I just love the airy-ness of this pattern! I would consider this the perfect light crochet tank top. You can find the free pattern here.
Bayside Tank Top
Next up is this elegant Bayside Tank Top pattern. My favorite part about this pattern is the beautiful lace detailing! It creates such a nice two-toned effect. You can find the free pattern here.
Modern Summer Top
Another one of my favorite crochet tank tops is this Modern Summer Top pattern designed by Jane from Jenny and Teddy! This pattern features the granny stitch on the front section. Isn't it so pretty and unique-looking? You can find the free pattern here.
Twinkle Tank Top
Last up is this stunning Twinkle Tank Top. The double stitches combined with the special cross-over stitch make this top look like it's covered in twinkling stars! My favorite part is probably the fact that Sarah from Ned and Mimi has included armhole shaping. This will give it a smooth, comfortable fit! You can find the free pattern here.
Crochet V-Neck Tops
For the third category, I am excited to show you some tops featuring v-necks! Personally, I love v-neck crochet tops because it's give it one extra elegant feature. There's lots of different ways to form v-necks! Some of the patterns to follow will use decreases to form the neck, while others will utilize two panels sewn together to form the V.
Lunar Lace Tunic
First up is one of my patterns, the Lunar Lace Tunic. This crochet tunic top pattern is gorgeous, yet also light and airy. It's the perfect top to dress up during the Summer! It uses the decreasing method I mentioned to form the v-neck. You can get the free pattern here.
Beautiful Diamond Top
Up next is the Beautiful Diamond Top designed by Nicole from Nicki's Homemade Crafts. Isn't it so pretty? I love the diamond detailing! This one makes a super SIMPLE v-neck by sewing panels together rather than dealing with decreases. If you're a beginner, this would be a great v-neck starting pattern! You can find the free pattern here.
Harvested Tee
Oh, my. When I saw the Harvested Tee, I knew I had to include it in this list! Just look at that amazing, openwork lace! This top is so fun because you can play with so many different colors and layer it over various tank tops and t shirts. You can find the free pattern here.
Ruby V-Neck Tank
Sometimes simplicity makes for the most stunning crocheted pieces. This Ruby V-Neck Tank top just uses one stitch throughout – the herringbone double crochet. Yet, the result is just amazing! This tank looks like the perfect thing to wear on a hot summer day. Get the free pattern here!
Chain Loop Summer Top
Last up is this fun Chain Loop Summer Top pattern. This pattern so colorful and cute! You can get the free pattern here.
Halter Tops and Crop Tops
Have you been looking to crochet a fun halter top or a unique women's crop top? Look no further, because here are some of my favorite patterns!
Ocean Waves Halter Top
The first pattern I'd like you to meet is the stunning Ocean Waves Halter Top designed by Claire from E' Claire Makery. The beautiful stitch design on this top makes it look like little waves are rolling across. You can get the free pattern here.
Everyday Crop Top
The next pattern I'd like to introduce you to is this adorable and unique Everyday Crop Top pattern. This summer crop top pattern is so fun because you can experiment with several different colors and yarn weights. I just love the cute button detailing on this one, along with the lacy sleeves! You can get the free pattern here.
Islamorada Festival Top
Multicolored tops are always a favorite of mine, and this Islamorada Festival Top is no exception! Stitch and Hustle did a great job making this top unique. It is inspired by the Florida Keys! What I really love is that it can be made either as a crop top, or with a cute skirt on the bottom. Head on over and get the free pattern here.
Cancun Crochet Top
This last pattern is called the Cancun Crochet Top, and it's designed by Alice from Crochething. I love the simplicity and delicateness of this halter top! It uses half double crochet and front-post hdc to get the fun rib stitch. You can get the free pattern here.
More Elegant, Trendy Crochet Tops
Lastly, I just have to show you some of my favorite fancy crochet Summer tops! All of these last few tops incorporate extra beautiful stitches and techniques that will keep you on-trend in the crochet top world!
Dogwood Flower Top
Do you love flowers? If so, I bet you'd love this Dogwood Flower Top pattern! This pattern is absolutely stunning, and it would make a great gift idea for any of your flower-loving friends! This top can also be worn casually with jeans, or dressed up with a skirt! You can find the free pattern here.
Shelby Top
Next is one of my patterns, the Shelby Top! If you've been looking for a nice Summer top that you won't get too hot in, this pattern is perfect for you! I absolutely love the unique lace detailing and lightness of this one. You can find the free pattern here.
Muse Summer Top
Next up, the beautiful Muse Summer Top designed by Briana from Briana K Designs. This top is so colorful and unique, and it makes a great top for those chillier Summer nights. You can have so much fun with this one! Get free pattern here.
Soft Dreams Top
When I saw the Soft Dreams Top by Selina Veronique, I knew I had to include it. This top uses Caron Latte Cakes, making it ultra fuzzy and of course, soft. In addition, the construction is a top-down circular yoke, which makes it easy to try on as you go! You can get the free pattern right here.
Contessa Cropped Pullover
Last in the entire list, but certainly not least, meet the Contessa Cropped Pullover by Sincerely Pam. This is a loose fitting top, which makes it a great piece to throw over a summer undershirt. I can't get over the lacy sections – they're just so pretty! Get the free pattern here.
Bonus – Crochet Top for Kids!
I couldn't help but include one last pattern – my Mini Midnight Top! This pattern matches the regular Midnight Top that is toward the top of this post. Except this version comes in child sizes 2-12! If you need a crochet top for your little one, check out the free pattern here.
CONCLUSION
So there you have it – over 20 crochet top patterns, from crop tops, to tank tops, and more! Maybe you need a stylish new top for the summer, or maybe you want to make one for a gift – either way, I hope you were able to find your next project in this list. So don't wait! Grab your hook and start one of these awesome tops today.
More Crochet Pattern Roundups
SHARING IS CARING!
If you did enjoy this post, I would love if you shared it in the following places so many MORE people can see it!
Pin to Pinterest – just hover over any of the photos in this post and click "save"
Happy Crocheting!